PORTRAIT OF A WOMAN MADLY IN LOVE
Farida Cooper is too shocked by her husband's treachery even to talk about it, but in hiding her shame succeeds only in denying the damage to herself and making casualties of others, among them an infatuated 17-year-old boy. Farida is vivacious, intelligent, beautiful, talented, rich, spoiled, and selfish, but her life is hardly as rosy as it appears. Her father's affairs render her mother frigid, leaving her effectively parentless. Her saving grace is her Kaki with whom she lives after her sixth birthday, but this also heightens the sense of her parents' indifference and she learns to show nothing of her feelings, allowing them instead to erupt years later in a series of disastrous choices. Her story shuttles between Bombay and Chicago, spanning the years from WWII to the 1980s, illuminating themes of love and marriage, feminism and friendship, art and academia, as she emerges from the maelstrom of her life as a woman in full.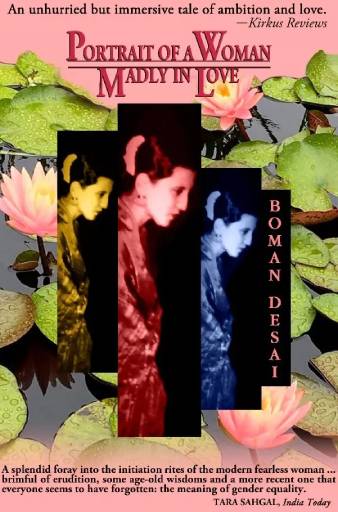 A splendid foray into the initiation rites of the modern fearless woman—brimful of erudition, some age-old wisdoms and a more recent one that everyone seems to have forgotten: the meaning of gender equality. For all the drama of western feminism, even sexually, intellectually, financially and socially empowered women like Cooper are often still pretty much enslaved.
Tara Sahgal (India Today)
Desai's intimate novel digs into pressing themes of love, marriage, divorce, education, and feminism as it weaves the threads of its determined protagonist's quest for independence.
A remarkable feat … an erudite and literary novel which is also a potboiler.... Farida is a feisty, courageous and engaging character and each time she emerges, like a phoenix from the ashes, she has something to teach us.
Bapsi Sidhwa (Fezana Journal)
A richly drawn and nuanced tale that deftly melds romance with … realistic fiction…. Desai explores the different layers of Farida's personality with intelligence, opening ever new portals into her psyche and unveiling her inner world one layer at a time. [She] is a robust and elaborately written character … and her journey … is brilliantly executed…. PORTRAIT OF A WOMAN MADLY IN LOVE is charming, sexy, and centered on a genuinely flawed protagonist with a compelling background.
Daniel Rhodes (The Book Commentary)
[A] stirring page-turner from Boman Desai, who weaves an extremely complex tapestry of marriage, love and betrayal.
Prasenjit Choudhury (Deccan Herald)
A deliberate and skilful construction of a well-paced and cadenced narrative.
Farida Cooper is heir to immense wealth. When she is betrayed by her husband, she sets out to live life on her own terms, unaware of the snares that are ahead of her. She is determined to succeed in academics and moves from Bombay to the US in quest of her dreams. Many things happen, including landing a story for the Atlantic, but when Farida falls in love with a younger man, a lot is at stake for her. She has to deal with family and social pressures. This is an intricately plotted and well-written story that explores what one woman will do to live life on her own terms. Farida wants independence, but her choices push her to more heartache and struggle. Boman Desai has crafted an engaging literary novel that is psychologically rich and emotionally engaging, a story that explores the transition of a woman who had everything to one who wants to create a life that aligns with her passions and sense of independence. The cultural setting is vividly drawn and it will be interesting to follow Farida through the dynamics of the changing times. Themes of family, divorce, love, and education are intelligently written.
I was in high school in Bombay (now Mumbai), where I was born and raised when one of my classmates dated one of the teachers. He was trim, handsome, smart, 17; she was lovely, enthusiastic, talented, 34. Like all the boys, I envied his good luck, as did the teachers. Even the headmaster fumed at one point: "What does she see in that boy?!!" I never learned the true nature of their association, but there was a great deal of smoke—and, like the others, I imagined a conflagration underneath.
Many years later, after I had made my home in Chicago, published my first novel, The Memory of Elephants, and was casting around for ideas for new books, I recalled an image of the two of them walking side by side. There was no handholding, there were no yearning glances, but what had impressed me was the confidence with which the boy walked. In his place, I might have fidgeted, bounced on my feet, and cast continual sidelong glances to ensure I wasn't dreaming, but he walked as if they were peers. That impression stayed, but recalling the image, I no longer envied him. Instead, I asked a variation of the headmaster's question. What might have happened to make her initiate such an affair? Whatever his appeal, he was half her age. The answer to the question led to Portrait of a Woman Madly in Love.
Strangely, I was a man writing a woman's life, supposedly fictitious, but I found myself understanding Flaubert's bon mot better than ever: "Madame Bovary, c'est moi." Farida is descended from a long line of heroines, not unlike Emma Bovary (Anna Karenina, Isabel Archer, Lily Bart, Edna Pontellier), women a little too pleased with themselves for their good. Like her forebears, she pays the price—as I paid the price for my head too swollen for my good in my younger years.
Farida's problems with Literary Theory echo my own. Conversations with professors on Deconstruction brought forth widely divergent responses. One called it "obfuscatory," another said she simply avoided it, another said it was pointless unless followed by a reconstruction, and another that she found it funny and never took it seriously. Another defended it by saying it was going out of fashion!! Whatever the argument, a grounding, in theory, is required of students pursuing doctorates in English, however nonsensical some professors may find it—and persons such as Farida Cooper find themselves cheated of the chance for a doctorate because they refuse to abide by what many consider nonsensical coursework—and without a doctorate, they are cheated of the chance to teach at university levels, however expert they may be at subjects unrelated to theory—most glaringly, Literature.
One
She was a woman in love, and a woman in love lived on an exalted plane, in a world where even inanimate objects palpitated with life like the creations of spring, her very pores seemed to expand and contract with each heartbeat; her nightly dreams were full of flight, arms like rudders propelled by a helium heart, but even by day she felt unbound by gravity, every move bursting with grace, every step a leap into ether. It had been almost a month since Darius had returned the socks with which she had mocked him for his cold feet, they had met three times a week for lessons, she had seen him just two days ago—but every separation was bearable, even charming, only because she knew she would be seeing him again soon. She shuddered to think of life once more without him, a lacerated landscape bearing beings of cracked skin and brittle bones, a world lacking a center not knowing what it lacked, the pulsing oceanic galactic radiant heart of love.
Two
It was not quite four o'clock when they returned to Blue Mansions, but seeing Darius's bicycle standing in the compound Farida barely acknowledged Ratan's goodbye, slamming shut the door of his Plymouth, dashing up the stairs like Cinderella in reverse, bursting into the sitting-room to find Darius on the sofa. "Sorry, I'm late."
He got up. "You're not late. I came early." The clock chimed four in corroboration, but neither noticed. "Did you run up the stairs?"
Her face remained anxious. "Yes, but that's not why I'm out of breath. Silly of me to think a minute would make a difference, but I saw your bicycle downstairs and didn't want to keep you waiting."
He shook his head. "No place I would rather wait."
His voice had developed a vibrato through which you could shove a cello. She saw nothing but her lover standing in a void. Sofa, floor, ceiling, walls, all disappeared. There is a way people move when in love, they glide with preordained grace, floating through obstacles, becoming the other's compass, rudder, wind, and star. It is a state of grace and they had joined the select club, could have danced all night and still have begged for more. "Have you been waiting long?"
He shook his head again. "Just got here." The sitting-room was a goldfish bowl, Kaki and Sashi and other servants in dangerous proximity. He pointed to the studio door. "Shall we get started?"
She had issued orders they were not to be disturbed at their lesson. "Of course." Behind closed doors again they coalesced into a single egg, a single beating heart. Minutes later they remained entwined. Farida whispered. "My darling, how are you? How have you been?"
Three
The night following Horace's visit was no different from the others. Rohini mitigated Farida's fears by day, as did the hundred and one cares of daylight, from brushing her teeth to cooking and cleaning and showering among so much else, but under cover of night her tears ran like a river. Night was the realm of solitaries and ghosts, rippers and prowlers, mists bearing tooth and claw, when helping hands appeared like hammers of doom, and encouraging words like the growls of beasts. Not even Rohini could hold at bay the hound she had unleashed upon herself.